Lawn bowling—a competitive game
Updated 2018-09-15 with report on National Championship
For the prospective new member who enjoys competitive events . . .
New members join our club for a variety of reasons. Some just want the delightful social aspects of the game and the many non-bowling activities available. Others are looking for an activity they both can do as a couple, or something the whole family can take part in on equal terms.
And then there are those that love a bit of competition. . .
You may have played competitive sports in your younger days, but can no longer take part in contact sports or fast-moving sports. Or perhaps you are a youngster looking for something different that can provide tournaments every week locally, provincially and even nationally and internationally.
For all ages, bowls can offer a huge range of life-long competitive events. You can start in your teenage years and continue to compete, even up to your eighties and nineties!
Club play is where you start
You have to start by learning to play the game, of course. The club will offer you coaching to make sure you get off to a good start. Then you can play in the daily draws at the club, where you can develop your skills.
Very soon you can join the club league games, which take place every week. You will be paired at random with an experienced player who may carry you to victory that week (3 points) or may, in spite of your own best efforts, lose the game (1 point for showing up.) You'll need $5 to participate in a league. The end of season prizes might get you up to $30-40. (We didn't say bowls was lucrative, just competitive.)
Then there are 14 outdoor club tournaments every summer. Your chances of winning are again pretty much random, depending on who you are paired with. But you begin to get a taste of what tournaments are like.
Between 40 and 80 club members turn up for club tournaments, most of which last for one day in which you will play three or four games. There are prizes from your $5 subscriptions.
BSI district-level play offers serious competition
Next step up the competitive ladder is a Bowls South Island (BSI) tournament. These 40 or so tournaments every year are open to members of the eleven lawn bowling clubs in South Vancouver Island. Oak Bay hosts four of the BSI tournaments.
Here competition gets more serious: multi-day tournaments; enter as a team; qualified umpires always on hand. Entry fees move up from the $5 to the $12-25 range. Prizes move up accordingly and can be hundreds of dollars.
When you start playing at the district level, you are probably into frequent bowling practice, keen to attend instructional sessions, taking courses to be a marker, or a coach or an umpire.
You have become a serious bowler; and you'll find lots of companions of that same ilk in our own Oak Bay LBC and in other clubs. About one-third of the full members of the Oak Bay club list themselves as competing at the District Level or higher. Over time you will get to know many of the 3-400 competitive bowlers from the eleven local clubs.
You find your own team partner(s) for BSI tournaments, probably from within your own club and maybe stick with them for at least one season, and often for many years.
And it's competition for life!
You can be "on the podium" at any age.
Two young men, one from the local Juan de Fuca club and one from Sidney, starred in the BSI Jubilee Pacific Pairs held at the Oak Bay Club in June 2018, where they made the final in the 30-pair tournament.
These two were junior Provincial champions, one in 2017 and the other in 2018.
By way of contrast, Oak Bay players regularly win the BSI Adshead over-80's inter-club tournament. Jim Brown, the skip in the 2017 picture is 90 years old. He also won in 2015. Then, although suffering the humiliation of a mere third place finish in 2016, fought back to reclaim the top spot again the following year.
Jim has moved away from Victoria, but Art Antrobus took over as skip to win again for Oak Bay in 2018. We also claimed second spot in both 2017 and 2018. As Yogi Berra would say, "We have deep depth." 🙂
Provincial level is next
On to the Provincials . . . These competitive events are held annually and involve more travel. There are eight provincial playdown tournaments each year, just one event per category. Oak Bay LBC hosted the three-day 2018 Provincial Mixed Pairs in August. The two Oak Bay teams who entered that competition won both first and second place. Louise Mason, who was a member of the winning pair, was also a member of the second place team at the 2018 Adshead over-80 district inter-club tournament that took place earlier in the year. She must have pulled herself together and trained hard because she then won gold at the Provincials all-comers mixed pairs competition! 🙂 Louise now advances to the National Championship, which is scheduled for September and also happens to be in BC — at the Qualicum Beach club. She is living proof that you can compete successfully throughout your lawn bowling life.
Our new young bowlers often make a point of going to the Provincial junior competition in their first year at the club. There is no qualification process to deny you entry. You may not win, but that first try at a province-wide competition is an invaluable experience for the young competitive bowler.

Winners of the Provincials compete in the Nationals. Winners of the Nationals qualify for selection for national teams to play at international events, the most prestigious being the Commonwealth Games. (Breaking news 2018-09-15 . . . Today, Oak Bay Pair Brent Jansen & Karen Evans, who took second place in the Provincials in August, won the 2018 Mixed Pairs Canadian National Championship.)
Competitive bowling can take you abroad
An Oak Bay club member was picked to join the Canadian team for the World Juniors championship in Australia in 2016.
One local teenage bowler visited New Zealand to play recently and was "scouted" by an Australian coach, returning home with a six-month sponsorship to receive high-level coaching and to play in the Premier League while attending school near Melbourne.
Another of our Oak Bay members and his colleague from the local Gordon Head club, won a prestigious US championship in 2017. In fact they won two championships.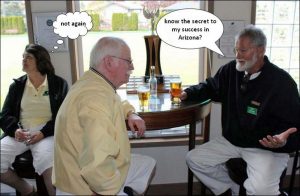 You don't have to be a championship-level player to compete abroad. Your Oak Bay club membership gives you the opportunity to play at more than 7000 lawn bowling clubs in more than 50 countries.
In June 2017, two of our members decided to join the giant two-week-long Australian international tournament, where more than 4000 players battle for the winning slots. All went well with the "Angry Beavers" self-assembled Canadian team, (apart from Shelley Sidel becoming the only known Oak Bay player to be bitten by a shark!) You can read about their adventures, and the foreign adventures of other members, in the club's Bowling Abroad travel blog, which is accessible from the home page of this website.
Same competitive story indoors in winter
We have yet to mention the short mat game that we play all winter long.
There are competitive short mat league games throughout the Fall and Winter Sessions and three or four tournaments.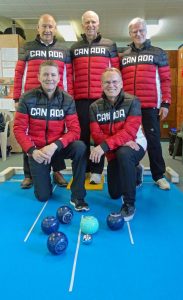 Short mat is played at only five of the eleven BSI clubs (Oak Bay, Lakehill, Sidney, Vic West and Central Saanich), but we think of ourselves as the most serious of the short mat lot. So serious that we sent a four-man team to the Canadian Short Mat Bowling Championships in 2017 – where they won lots of medals, and then a five-man team to the World Championships in Sweden in March 2018 – where they didn't.
It does not necessarily take years to get to the competitive level. One of our players at the World Championships only started bowling in 2017. He practises every day, though!
Warning. . . national and international short mat bowling is fun, but it is not lucrative — no prize money, only large expenses!
Now take action; your new competitive career awaits
You can now see that the life of the Oak Bay LBC competitive bowler is full of adventures and triumphs!
Make a start on your new competitive career by attending one of our summer Friday evening visitor sessions that are open to the public. In fall and winter contact us to arrange a tour of the club and try your hand at the short mat game.