This page created April 22, 2016.
Harnam Grewal was elected to Life Membership April 10, 2016.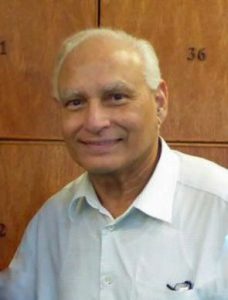 Born in Hong Kong in December 1937, Harnam spent the majority of his childhood years in his ancestral village in the Punjab. He returned to Hong Kong with his family in 1947.
He completed his primary and secondary schooling in Hong Kong, and then obtained a BA(Hons) in English from the University of Hong Kong in 1959, and a Diploma in Education in 1960. That same year, he gained admission to Pembroke College, Cambridge to do an additional degree. The following year, during his summer vacation, he came across to Canada to do research for a paper for his Finals at Cambridge on the subject of "Canadians of East Indian origin in British Columbia." He stayed in Vancouver for three months and a week in Victoria to carry out the research.
Harnam returned to Hong Kong after completing his degree at Cambridge in 1962, and became a school teacher. Two years later, he was accepted into the Administrative Service of the Hong Kong Government from which he retired in 1990. He held various positions in the Government including that of District Officer Tai Po, Deputy Director of Urban Services, Commissioner of Customs and Excise, Secretary for Transport and Secretary for the Civil Service.
Harnam was a member of the Royal Hong Kong Regiment (The Volunteers) from 1963 to 1984, retiring from active service with the rank of major. He was appointed Honorary Colonel of the Regiment in 1987 and served in that capacity for three years.
Harnam's preoccupation from his early schooldays was field hockey. He represented Hong Kong at the IV Asian Games in Djakarta in 1962 and V Asian Games in Bangkok in 1966, and played for Hong Kong at the XVIII Olympic Games in Tokyo in 1964.
Harnam took up lawn bowling when he joined the Oak Bay Lawn Bowling Club in 2001 and has been a fierce competitor in the sport and a passionate advocate for the game.
Harnam has demonstrated a devotion to the sport of lawn bowling, its principles and history, the players and the greens that we play on. He has always been an elegant ambassador to our club and consistently encourages all members to remain an active part of the sport.
Harnam has a long history of exemplary service to our club and the following is just a snapshot of the tremendous work that he has done.
2004 From the material available, compiled a brief history of the club for the 50th Anniversary celebrations in 2004 entitled Oak Bay Lawn Bowling Club, A Club History and Golden Jubilee Tribute.
2005/6 President of the club, where he provided exceptional leadership. As an Executive Committee member he held many positions over the years and earned the reputation as the "go-to person." His counsel continues to be sought, and he invariably provides advice that proves beneficial to the club.
2007 Won the BC Provincial Mixed Pairs title with Joan Firkins and represented BC at the National Championships.
2009 Awarded the Bill Van Druten Sportsmanship and Service Award. This award was bestowed on Harnam given that he best exemplified the qualities of good sportsmanship combined with a willing attitude for general service to the club. He was commended for demonstrating a competitive spirit with friendly and respectful conduct on and off the bowling green.
Co-Chaired the 2009 Nationals Committee.
Served as an umpire at the 2009 Canadian National Championships.
2010/11 Player Development Chair where he helped to produce one of the more impressive coaching programs, which continues to serve as a standard for those subsequently holding the position.
2012 Recognized as the Bowls South Island Volunteer of the Year.
Was Head Event Umpire at the North American Challenge, Canada versus the US. (The tournament is held bi-annually.)
2014/15 Held the position of the Bowls South Island Head Umpire and has been an umpire for many years, officiating in tournaments at both the local and national level.
Harnam has managed tournaments, served as a leader of a greens cutting team and at one time or another has done virtually every job imaginable at the club. He has contributed numerous articles to a variety of media, has made untold contributions to the club's Constitution, Policy Manual, Newsletters and many other documents which collectively made an enormous contribution to the club and the sport of bowls. He has coached novices, mentored players and served as an exceptional role model for the sport and for sportsmanship.
Harnam led a team of club members that was instrumental in obtaining funding for a major expansion to Carnarvon House and the construction of a building to house the club's maintenance equipment. His leadership, determination, and highly developed communication skills were critical to the success of this undertaking. The result is the spacious renovated building that today accommodates our numerous activities.
April, 2016