Published on behalf of Andrew Harley
Well here we are on the way home. Uneventful start. Early rise at the Landvetter Airport Hotel in Gothenburg, Sweden. Rising at 4 am with breakfast at 4:30 and a walk over to the Airport at 5 am. Usual check-in procedures, security checks and then wait for boarding. On our flight to Frankfurt, 35,000 feet, landing in one hour. Two hour wait for our flight to Vancouver. Maybe I'll get this blog finished while we are waiting.
Sunday saw the last game of the round robin. Our triples team played Germany and had a good outing, we held them off for a 13-9 win. It was good to get a win under our belt. Both Chris and Brent played their final singles match. They were tough fought matches. Chris played on the fastest mat. Both players struggled to find their weight and Chris came out with a narrow loss. Brent played well but again in a losing cause. Still we're done and we could relax and watch the finals.
The top two teams in each group went through to the semi-finals. There are four groups, singles, pairs, triples and fours for both the A and B side. There were 18 mats for the round robin matches. For the finals the mats were re-aligned and reduced to 8 mats for 16 teams. It was quite clear that out of the sixteen teams, fourteen of the teams were from Ireland, Wales and England. One team was from Belgium and one from Sweden. After the dust settled in the semi-finals, one team was left from Belgium, one team from Sweden and rest were from the UK.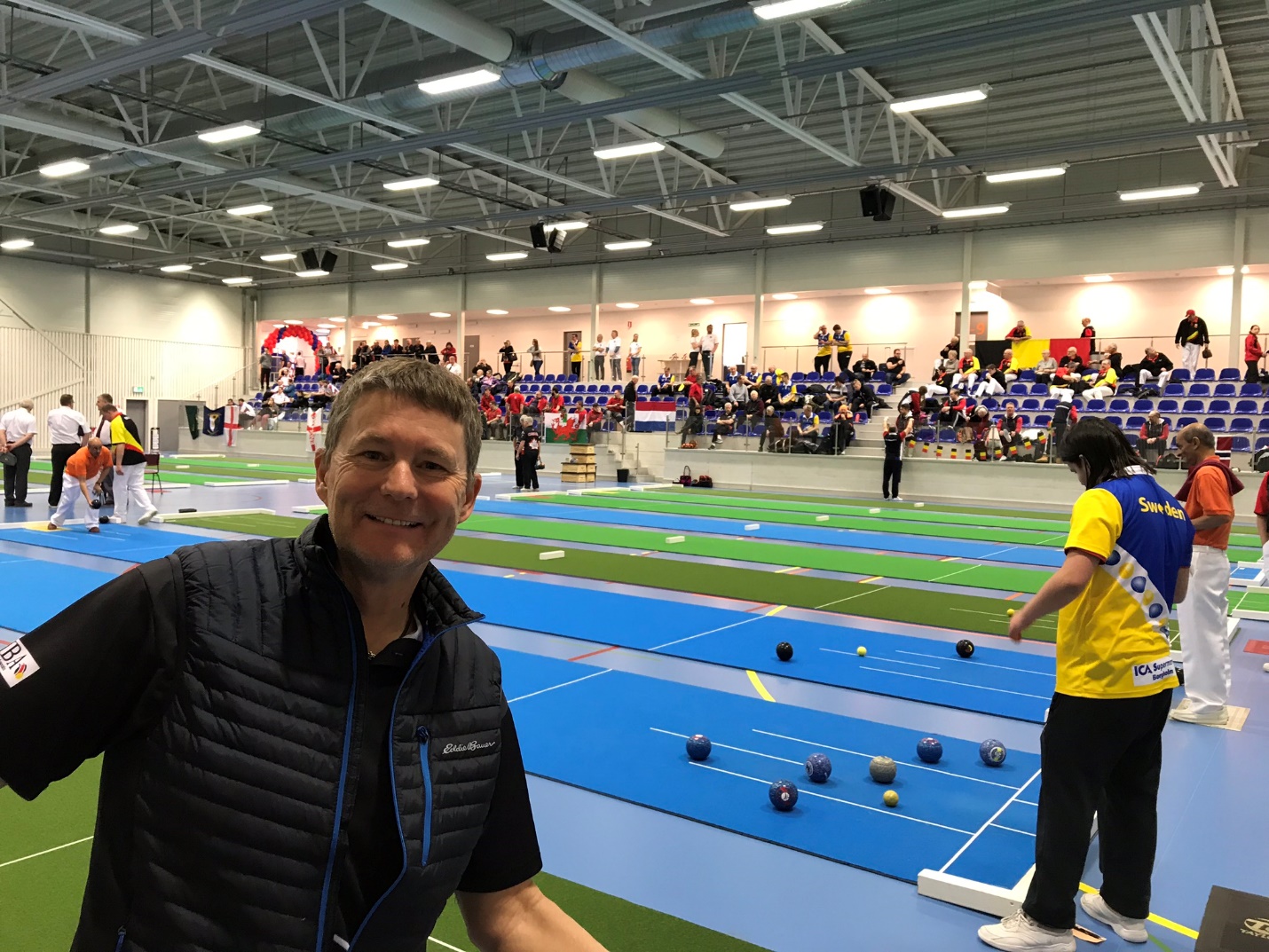 The finals were hard fought and exciting. In particular the singles were fought out between the Belgium and the player from Wales. The interesting issue was that the Belgium player was only there courtesy of Chris Slade. Chris beat the English singles player in an upset victory during the round robin which allowed the Belgium player to go through on a point count. The final was an exciting match with never more than a point difference. The Belgium player won, which was probably considered to be an upset. He was very emotional at the end!
The other interesting final was the pairs match between a Swedish father and his son and an Irish father and son, most unusual! The result was no contest, the Swedish pair put on a superb show with a convincing win. The really pleasing part was that the Swedish son was only 15 and who had been playing since the age of 6. His was mind-glowingly good.
So that's it, we're done. A final dinner at the "Park" restaurant, head back to the cottage and crash, exhausted.
Wrapping up and cleaning the cottage Monday morning and we're on our way Gothenburg (see top of blog). We should home in Victoria by 3 p.m. today and get some sleep tonight. A good trip but it's great to be on our way home


Andrew, Brent, Mitch, Chris and David
Signing off; see you all soon