Updated 2018-05-05 noting the extension to year round play.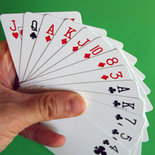 Duplicate bridge is played every Thursday afternoon year-round in Carnarvon House.
Play in fall and winter starts at 1:00 p.m. In summer, play starts at 6:30 p.m. There are occasional breaks in the schedule. See Social Events calendar for exact dates and times.
Please arrive ten minutes before the start time to assist with setting up.
Play is included in your social membership.
For non-members, the first drop-in is free; then $5 per visit for the next three visits. After that, you are expected to join the club. The $15 already paid will be credited to your annual membership fee.
Table money of $1.00 is collected from each person attending.
New players are always welcome; the only criterion is that you must have a partner.
Should you require any further information you can contact one of the following three people.
Linda Cowie (250-592-6660)
Joan Roberts (250-220-3845)
Art Antrobus (250-382-6609)