Updated November 12, 2017 with additional paragraph about impromptu social events.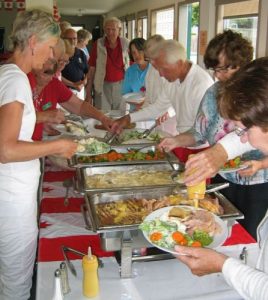 Social events are held throughout the year. Below is a partial list showing the month of each annual event. As the event approaches, its exact date and time will be published as an Upcoming Event on our website home page.
January:
February:
March: Winter Wine Down
April: Open House
May: Opening Day; Victoria Day Dinner
June: Bowling and BBQ
July: Canada Day Dinner
August: Sunday barbecue
September: Labour Day Dinner
November:
December: Christmas Party
Other impromptu events, such as presentations by members, social evenings, etc. vary from year to year. Notices about them will be published on the Welcome Banner on the home page and the online Calendar as the time of the event approaches.