2019-05-06 updated hyperlinks to more information about each event.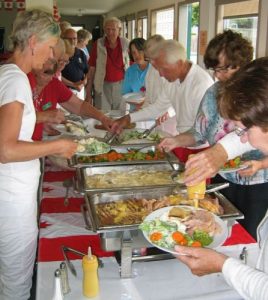 Social events are held throughout the year. Below is a partial list showing the month of each annual event.
Many of the reference links below inevitably refer to events that have already taken place in the past 12 months. When a future event document becomes available, a link to it will be added on this webpage. As the event approaches, its exact date and time will be published as an Upcoming Event on our website home page and also in the online Events Calendar.
In addition to the annual events, there are weekly or monthly social events such as the Thursday Special Draw every week in summer, Ladies Dart Night and Brew & Bowls evening events every month in fall and winter.
January: New Year's Day Bowling 2019, Ladies Dart Night 2019, Brew & Bowls
February: Ladies Dart Night 2019, Brew & Bowls
March: Ladies Dart Night 2019, Inter-club visit
April: Open House 2019 (twice)
May: Opening Day; Victoria Day Dinner
June:
July: Canada Day Dinner 2019, Burgers and Bowls
August: Inter-club visit 2018
September: Labour Day Dinner
October: Ladies Dart Night 2018, Brew & Bowls
November: Ladies Dart Night 2018, Brew & Bowls
December: Christmas Party 2018, Ladies Dart Night 2018
Other impromptu events, such as presentations by members, social evenings, etc. vary from year to year. Notices about them will be published on the Welcome Banner on the home page and the online Calendar as the time of the event approaches.