OBLBC Publicity Brochures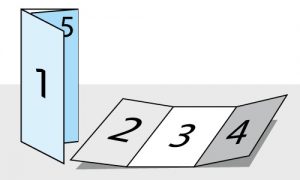 Members can print one or more of our publicity brochures, using their own printers. You can then give them to friends to introduce them to our club
Below are four brochures that can be printed with a double-sided printer; or you can print the first page, feed it back in face-side down and print the second page. Each pair of pages is expected to be a double-sided sheet.
Before printing, set your printer to Landscape view 8 1/2 x 11, not the more usual Portrait view (11 x 8 1/2)
Once printed on both sides, the sheet can be transformed into a tri-fold publicity brochure, as shown in the diagram. As you can see, one sheet has the fold-out pages 2,3 and 4. The other has side 1, the header page; page 6 displays the back of the brochure, when folded.