Lawn bowling—a social game
You should read this page if you are more interested in joining a friendly club than being a star lawn bowler. . .
Playing members of bowling clubs can be divided into three broad groupings:
Players who revel in competitive play and enter all the tournaments they can;
Couples and families looking for an activity they can do together on equal terms; and
Social bowlers, who value the social interaction when playing more than they do running up big scores and beating opponents.
You can check on the competitive player page and the families page, but this page is for the Social Bowler.
Bowling clubs are very sociable places. The etiquette of the game almost demands that you must be "nice" to everyone. The Oak Bay club is much more than just a place where you go to play lawn bowls; it is a very welcoming community of local people who support each other both inside and outside the club.
If you're thinking:
I have just arrived in Victoria and I don't really know anyone; or
I really should get out more and meet people; or
a little bit of gentle exercise would be good for me; or
so many activities are for "couples" or require a partner of some kind, and I don't really have anyone like that . . .
then a trip to the Oak Bay LBC can get you an instant circle of friends and acquaintances and a chance to meet for activities almost every day of the year.
So you don't know how to play the game??? The club will provide you with several coaching sessions to make sure that you can roll a bowl in some fashion. Mostly, the coaches teach you the rules of the game. Once you know them, you have the opportunity to play outdoors all summer and indoors in fall and winter. Each game you play will likely be with three to five other members. That way you get to know the members in small groups and soon you will find that you know half the membership by name. At Oak Bay that means about 100 friendly people that you otherwise would not have met.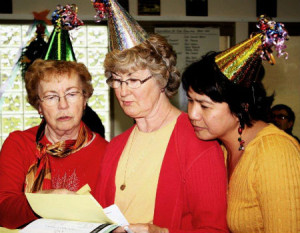 And it's not just bowling. In fact some of our members NEVER bowl; they are there for the weekly social activities – and the occasional party. In the winter months it's bridge, darts, scrabble, canasta, table tennis. Bridge, canasta and scrabble carry on each week throughout the summer, too. You can see links to descriptions of each of the various weekly indoor social activities on the Indoor Activities page. No great skill levels are required for our events. As the darts organizers say, "Most of us are duffers."
Social membership, with no outdoor bowling, costs less than one-third of the full membership fee. Some bridge players say it's the cheapest venue in town for bridge games – at one dollar for an afternoon's play. Most of the other social activities cost nothing extra.
Even the volunteer activities have a strong social component. The club depends on members volunteering for activities that keep the club running; perhaps a bit of gardening in the summer, or help in the kitchen for our half a dozen dinner events each year. Small teams of people meet occasionally to carry out the necessary tasks in an atmosphere of camaraderie. You won't be overworked; more than 50 members volunteer to work in the kitchen, for example, and maybe only four or five are required for an event.
The main thing is you now have "your club" that you can go to as often or as infrequently as you want and there will be something for you to do almost every day of the year. You can go on your own; there will always be other members there and you can join in whatever activities are going on that day. Only a very minimum of events require a partner (Contract bridge on Thursdays excepted; you have to bring a partner for that. But then on Tuesdays they have social bridge, where you can just join in a very informal game. They actually discuss one another's hands . . .)
Now take action; your new social club awaits
Take the first step by attending one of our summer 6:00 p.m. Friday evening visitor sessions or contact us to arrange a personal tour of the club.