Updated
January 20, 2018, referencing the online calendar and clarifying drop-in fees for non-members

.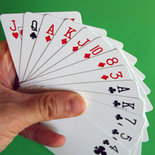 Social bridge is played every Tuesday afternoon at 1.30 p.m. in Carnarvon House. Please arrive by 1:20 p.m. to aid with setting up.
Play starts in mid-October and continues to April the following year, (until April 3 in 2018) with a break over Christmas and New Year. See Winter Social Activities calendar for exact dates.
More details of this activity can be found here.
Play is included in your social membership. New players are always welcome.
For non-members, the first drop-in is free; then $5 per visit for the next three visits. After that, you are expected to join the club. The $15 already paid will be credited to your annual membership fee.
Should you require any further information, you can contact Anne & Eric Payne 250-472-0221.