Created September 15, 2017.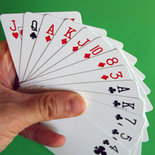 Social bridge is played every Tuesday afternoon at 1.30 p.m. in Carnarvon House, starting October 10, 2017. Please arrive by 1:20 p.m. to aid with setting up.
Some more details of this new activity can be found here.
Play is included in your social membership. Drop-in fee for non-members is $5. New players are always welcome.
We are looking forward to another enjoyable bridge season. We will play until April 2017.
Should you require any further information you can contact Anne & Eric Payne 250-472-0221.