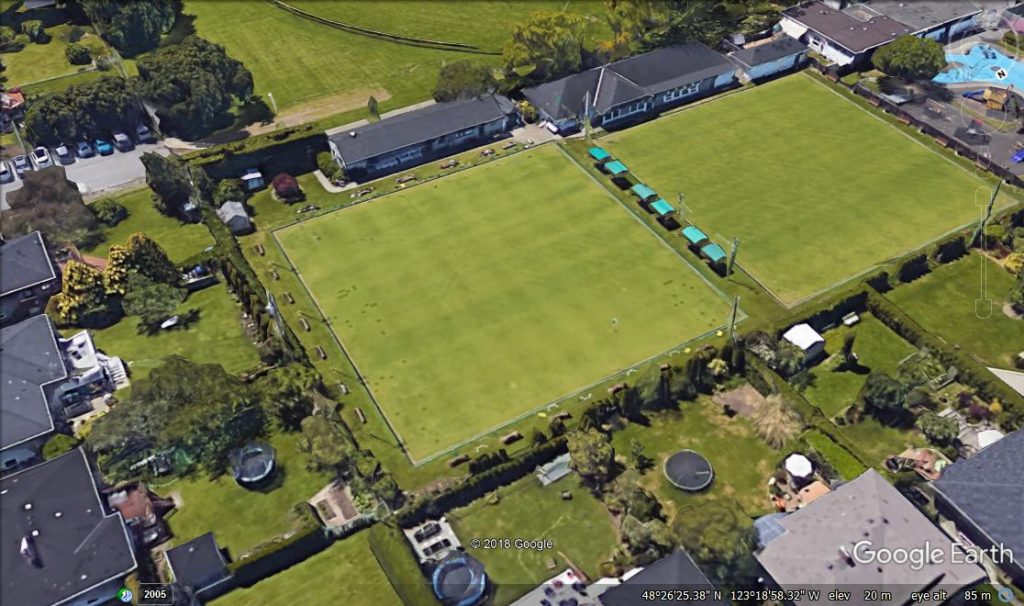 Updated April 5, 2018, with a new picture of the club.

The Oak Bay Lawn Bowling Club was established in 1957, and is located in the northeast corner of Carnarvon Park, Oak Bay, Victoria, British Columbia. Our club is one of 11 outdoor bowling clubs in southern Vancouver Island, and is affiliated with Bowls BC and Bowls Canada.
Of our 200 or so members, 85% are Full Members, meaning they are active lawn green bowlers. These members enjoy five months of continuous lawn bowling. There is never a day when there is not an organized bowling game for members, unless we get rained out.
The rest of our members are Social Members who can participate in any club activity, except outdoor bowling. Some players from other clubs take out a social membership at our club just because it includes indoor short mat bowling. Some join just for the twice-weekly bridge games, or to play darts. Whatever the reason, it is nice to belong to a club that is open 365 days a year and where there is an organized activity almost every day.
Special features of our club:
Two greens, offering 16 rinks that enable us to host tournaments for up to 128 players;
Two short mat rinks, permanently in place from October through March, for play 24 hours a day;
Organized friendly bowling games outdoors every day in summer, and indoors every day in winter;
No need to wear "whites" except in tournaments;
Two club houses that are open every day of the year;
Large pavilion for social activities, with a licensed bar; and
Social activities happening every day, all winter long, such as bridge, table tennis, darts, scrabble, canasta, and cribbage.
For more details about the club see Location , Contacts, Premises, Membership, Volunteering, Administration