There are many good reasons to join our club

Updated February 4, 2018 re 2018-19 fees.
Lawn bowling is an enjoyable and safe sport for young and old. Anyone is welcome to join our club!
Here's what our members have to say about why they joined the club:
A club member recommended that I try lawn bowling, so I tried it one Friday evening and was hooked!
I can no longer meet the physical demands of the competitive sports I grew up with. Now, with lawn bowling, I can enter tournaments every week.
I enjoy travel and meeting like-minded people. Our membership opens doors to 7,000 clubs all over the world.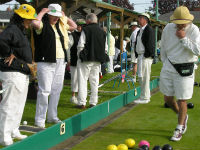 I could not afford to join local golf clubs. At $250 a year for unlimited year-round outdoor and indoor activities, the value can't be beaten!
I had just moved here and knew almost no one; joining the club created an instant social circle.
I enjoy the club's year-round social activities and the chance to meet new people.
Pushing open the club's gate in a moment of curiosity, I was captivated by what I saw!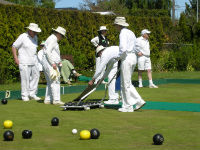 Come and push open our club's gate and be captivated!
For a friendly tour, please Contact us. Or come and see us any Friday evening in summer to attend one of our Visitor Nights. Here's our location.
For information on membership fees and how to join our club, see Membership page.