Updated January 20, 2018 referencing the online calendar and clarifying drop-in fees.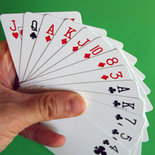 Duplicate bridge is played every Thursday afternoon at 1.00 p.m. in Carnarvon House.
Play starts in mid-October and continues to mid-December, then resumes in early January and continues until mid-April. See Winter Social Activities calendar for exact dates.
Please arrive by 12.50 p.m. to aid with setting up.
Play is included in your social membership.
For non-members, the first drop-in is free; then $5 per visit for the next three visits. After that, you are expected to join the club. The $15 already paid will be credited to your annual membership fee.
Table money of $1.00 is collected from each person attending.
New players are always welcome; the only criterion is that you must have a partner.
We are looking forward to another enjoyable bridge season.
Should you require any further information you can contact one of the following three people.
Linda Cowie (250-592-6660)
Joan Roberts (250-220-3845)
Art Antrobus (250-382-6609)